What do poker and  presidents have in common? Presidents Roosevelt  (both), Harding, Eisenhower, Truman, Nixon were all fans of the game (see here).  Now I have just learned that Obama is a poker player (see here).  In fact, he is the founding member of a group of poker players, lawmakers and lobbyists, that would on a regular basis play low stakes poker, smoke cigars and drink beer. Hmmm….poker, beer, and cigars.  Fortunately for Obama he no longer considers himself Muslim, since poker and beer are haram from an orthodox Islamic point of view.  I'm not sure about the cigars.
Here are some historical poker tidbits about some of the presidents I mentioned above.
Warren Harding
Warren Harding (the 29th US President) loved the game so much that he had a poker game twice a week and his cabinet was called 'the poker cabinet" (see here).  I don't know whether Harding had any poker skills, but I have suspicions that he wasn't that good.  According to Michael Gladwell, the author of Blink, "most historians claim that he was one of the worst presidents in American history."
Harry Truman
Harry Truman (Democrat), the thirty-third US President, was also a President who liked the game of poker.   According to several people who played with him, he wasn't that good a player.  One person called him a "chump" because he always stayed to end of a hand.
For those who are interested in the connection between Jews and poker, you might find it interesting to learn that Truman enjoyed playing poker with some of his Jewish friends at the Oakwood Country Club.   He liked playing this Hi-Lo game called Vinson.  I've never heard of it.  And since none of his Jewish friends could understand the game he did well when it was his turn to deal (see here).
Dwight Eishenhower
Dwight Eishenhower (Republican), the thirty-fourth US president, was supposedly a careful poker player because he was good at math and knew the percentages.  After graduation from West Point in 1915, he won enough money from his poker games to buy his first uniform and then he used his poker winnings to buy gifts for his wife Mamie.  He even managed for a while to find time to play poker twice a week with his best friend George Patton.  (see here)
Richard Nixon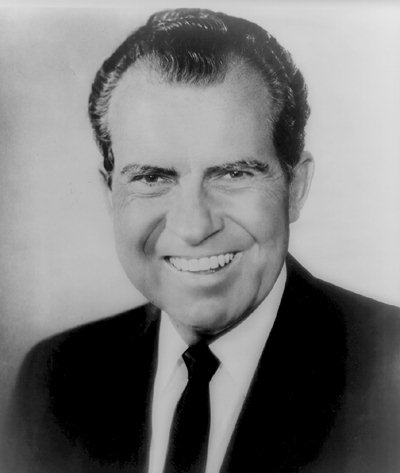 Richard Nixon (Republican), the thirty-seventh US President, funded his first congressional campaign with money that he won from poker.  When he was in the Navy in World War II he supposedly won $6000 in two months.  (See here)  I wonder where he first got the name 'tricky Dick".
George W. Bush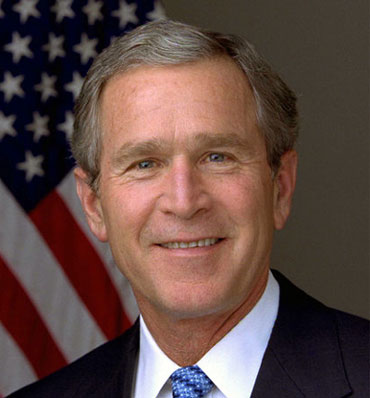 George W. Bush (Republican), the forty-third and forty-fourth US President, was known as a skilled poker player when he was attending Harvard Business School.  (see here) It is therefore beyond me why he signed the port security bill that is attached to a measure that attempts to prevent Americans from taking part in electronic gambling transactions, and hence preventing Americans from playing online poker for money.
Barack Obama
Barack Obama (Democrat), US Senator from Illinois and seeker of the Democratic presidential nomination just after only two years in Washington, may play low stakes poker, but obviouisly he's not afraid of going all in when it comes to politics.